2020 Kia Optima vs 2020 Honda Accord
A midsize car is something that you want to be comfortable and efficient but also good looking. The Kia Optima and the Honda Accord both fit the description. They both landed rankings in the top 10 of their class on US News. Both of them have sleek exteriors and a variety of entertainment and convenience features on the inside. The following are some of the key features of the models in a brief comparison.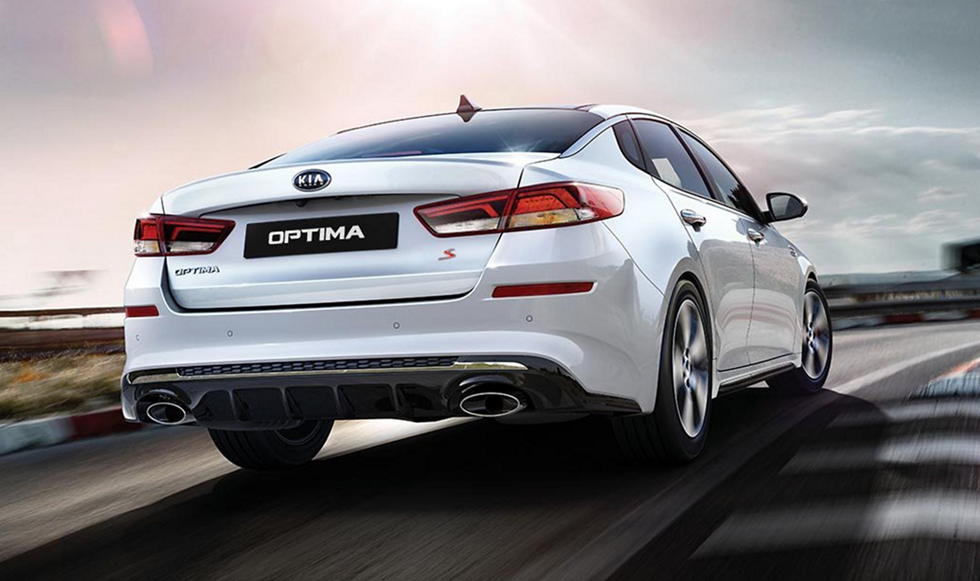 Exterior – 2020 Kia Optima
Another objective that you should have as a car buyer is to obtain something that dazzles people when they look at it. You'll definitely dazzle the crowd if you ride by in an Optima. The Optima has a luxurious appeal, but it still doesn't slack on its sportiness. Its curvy, wide grille is what gives it an edge in sexiness. Other features that you'll see on the exterior are features like the aluminum wheels and rounded body. The Honda Accord isn't an unattractive vehicle, but it doesn't have the same pizzazz that the Optima has. Two things that stand out about it are its wide grille and swirly wheel style. When we compared the two cars, we found that the Optima had the most attractive exterior. Color choices include Passion Red, Horizon Blue and Snow White Pearl. The dealership in Mississauga Ontario has it on display.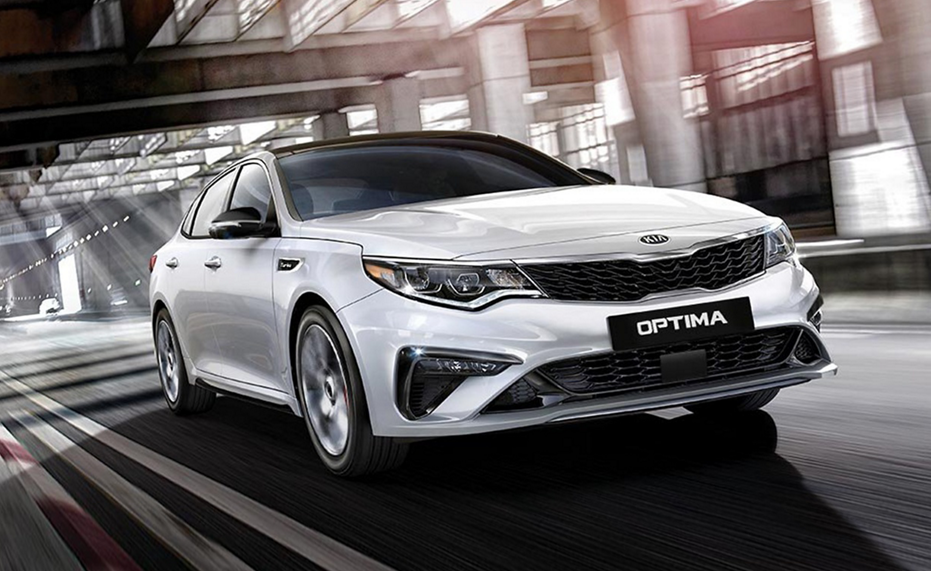 Interior – 2020 Kia Optima in Mississauga ON
You'll want absolute comfort and convenience when you get behind the wheel of the best car. We can tell you that the Optima will satisfy that requirement for you. Some of the top interior features on the Optima are features such as the Keyless Entry, Cruise Control, Heated Mirrors and Steering Wheel Controls. The Optima had an overall rating of 8.1 for its interior, and it had it for a good reason. Check out the interior at 401 Dixie Kia to get a feel for what it has to offer.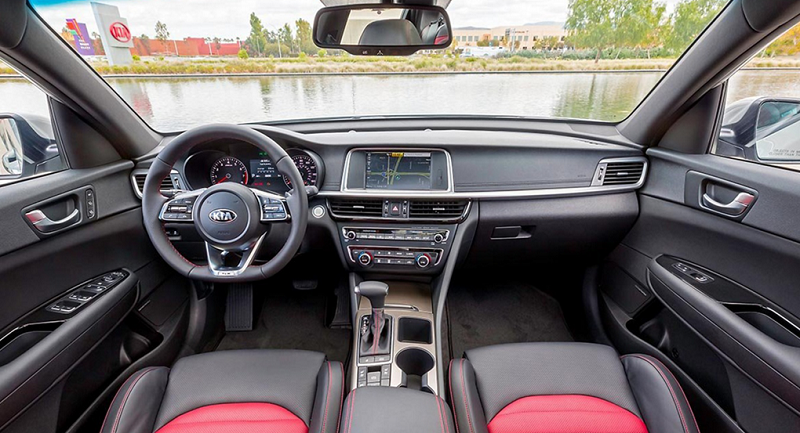 Pricing – Kia Optima in Mississauga
The first thing we're going to compare on these two models is the pricing since it's a highly important aspect. Both models have an affordable retail value, but we had to give the win to the Kia Optima. The Kia Optima starts at only a hair more than $23,000. The Honda Accord's starting price is only a little short of $24,000. While both of them have good prices, the Optima is the least expensive model. You always want to choose the model that costs less but doesn't lack in features. Visit the dealership serving Mississauga Toronto Ontario to see the model that interests you, and ask about get deals and discounts that are friendly to your wallet.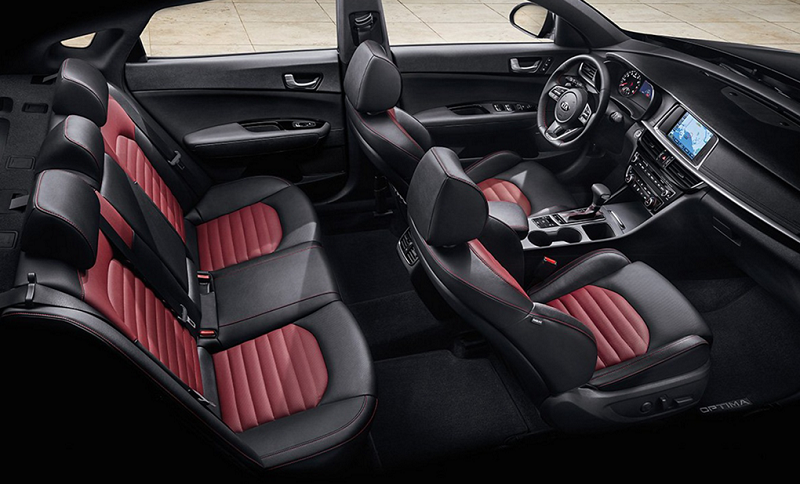 Technology – Optima specs in Mississauga ON
Technology is high on both of these vehicles, but you'll get much more out of the Optima if you choose to explore it. Technological features in the Optima include features such as the Wireless Cell Phone Hookup, Smart Device Integration and Auxiliary Audio Input. The Auxiliary Audio Input allows you to connect your smartphone or musical device and play the music you love in your vehicle. Wireless Cell Phone Integration and Smartphone Device Integration are there so that you can get full use of your cell phone's features while you're driving. There's more to the lineup of tech features in the model, but you'll need to see a salesperson so that he or she can tell you all about them.
Safety – 2020 Kia Optima dealer
Safety features also play an important role in a vehicle. We can proudly tell you that the Kia Optima has a perfect 10 rating on US News for its safety features. The Honda Accord was a little shy of being perfect. If you invest in the Optima, you'll find some amazing features such as Traction Control, Lane Keeping Assist and Lane Departure Warning. The Lane Departure Warning feature gives you an alert when you travel out of your lane. The Lane Keeping Assist feature helps you to get back in line when you fall out of alignment. Traction Control is something that will keep you grounded as you travel around on slightly wet surfaces. The Optima has these features and more. You can see what they're like by visiting the dealership serving Mississauga Toronto Ontario.
Consumer Reviews
Consumer reviews are crucial because they give potential buyers are a true depiction of their experience with a vehicle. You can rest assured that you will get a true opinion of how new drivers feel about these cars when they buy them. Drivers seemed to appreciate the Optima a lot more than they appreciated the Accord. Some of the key features they raved about on the Optima were features such as the fancy cabin, Infotainment controls and the gentle ride they got out of it. Accord fans mostly liked its large trunk. We recommend that you invest in the Optima if you want a truly five-star experience.
Test-Drive the Kia Optima in Mississauga Ontario
You have clear evidence that the Kia Optima is the more practical buy in this comparison. The only thing keeping you from owning such an amazing car now is you. You can schedule an appointment at our 401 Dixie Kia dealership in Mississauga Ontario to get a full taste of the pleasure the Optima can bring. Contact us by short form or telephone to schedule an appointment.