2020 Kia Telluride near Toronto Ontario
Vehicle Overview
The 2020 Kia Telluride is easily the best three-row SUV in the world. As an automaker not normally known for maker vehicles on the larger side, it's a feat of engineering and innovation that Kia was able to so adeptly craft the Telluride as perfectly as they did. Not only is it "as good" as any SUV in its class, but it's by far the most tech savvy of its peers. Dressed in standard Sofino seat trim and seating up to 8, the standard technology and trim of the Telluride is a testament to Kia's expertise as an automaker and inventor. This Telluride was the finest invention of them all for its class, serving Mississauga Toronto Etobicoke Brampton Ontario with unparalleled energy and elegance.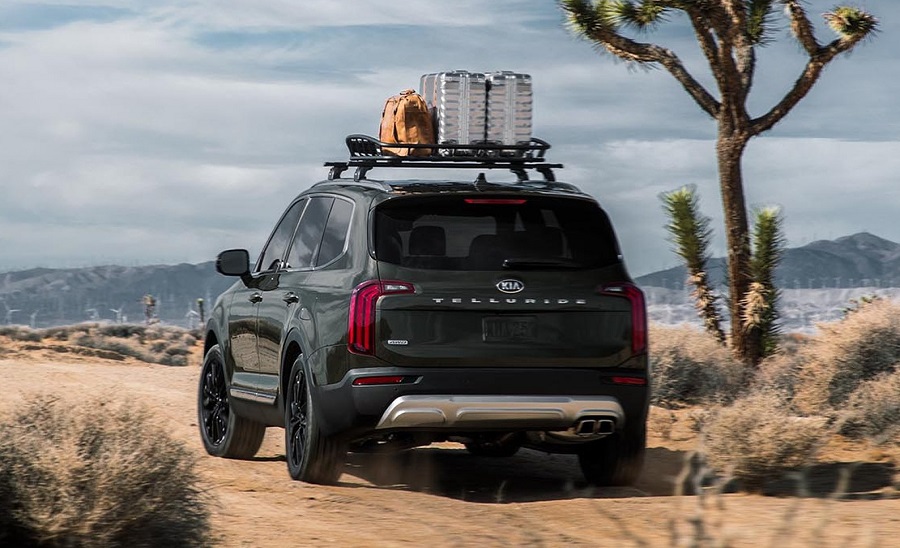 Exterior – 2020 Kia Telluride
The 2020 Telluride reminded riders that the ride is best when there's "no holding back." More than a reminder of limitless boundaries, though, the 2020 Kia Telluride near Toronto is an accomplishment on design. Its thick chrome-linked grille with prominent KIA logo, vented hood, and multi-color LED headlights are still a sight to admire. As the MotorTrend SUV of the Year, the Telluride has all the big style you'd expect of an SUV that received that distinction. Highlights of its bold styling include satin chrome exterior accents, 20″ alloy wheels, and full LED headlights that were creatively shaped and feature a two-tone look. The Nightfall Edition of the Telluride is finally here as well. It features a Nightfall specific blacked out grille, front and rear skid plate, and distinctive Nightfall badging and interior style. For those of you out there who like your vehicles as black as night and just as cool and memorable, the Nightfall Edition is one package you want to ask our dealership about when you come in to test drive the Telluride.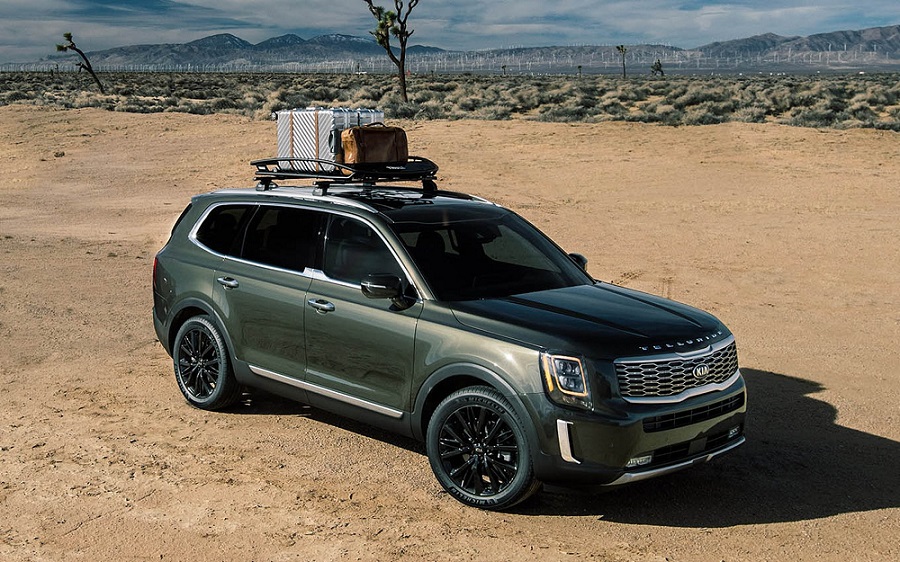 Interior – 2020 Kia Telluride near Toronto Ontario
The interior of the 2020 Kia Telluride near Toronto is where the Telluride makes its most compelling case for greatness. The cockpit features captain's seating in the second row. These are a couple of the most versatile seats in the SUV world today. They recline, slide forward, and are oh so cozy for passengers big or small. The rear of the Telluride can also get even more upscale thanks to a dual sunroof configuration. If rear seat passengers need a quick mobile charge, they have USB ports aplenty in the rear of the Telluride. It's form, function, and luxury all in one beautiful cabin. 401 Dixie Kia shoppers are going to flip for this interior.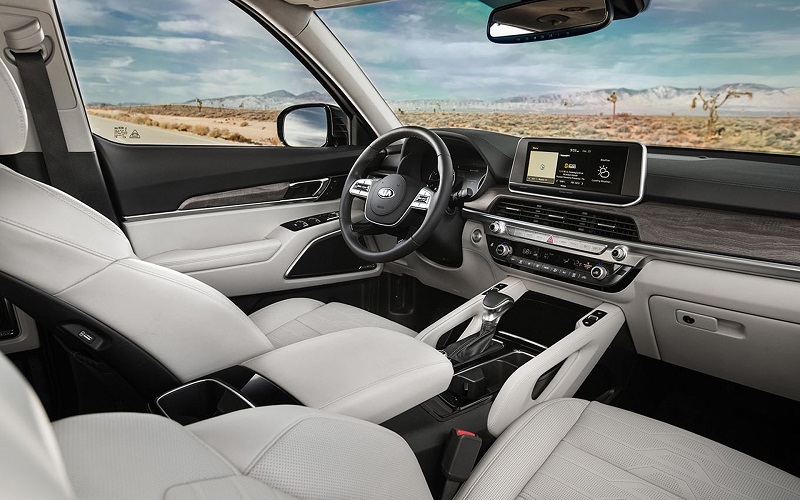 Mechanical – Telluride specs near Toronto
The single engine choice for the 2020 Telluride is a magnificent 2.8L V6 rated at 291 horsepower. The Telluride's 5,000 pound towing capacity gives drivers the freedom to take along their biggest treasures: boats, ATVs, and even campers. The adventurous outdoors people of the world appreciate the ingenuity and versatility of the Telluride. The engine is paired with an 8-speed automatic transmission that's electronically controlled. You even get a Sportmatic Sports Shifter. Active on-demand all-wheel drive has an AWD Lock and Snow Mode and comes even on the base model. The SX has Torque Vectoring Corner Control that utilizes yaw rate and steering input to maintain better stability when the going gets rough. It's a mechanical design that's serving Mississauga Toronto Etobicoke Brampton Ontario with near perfect precision.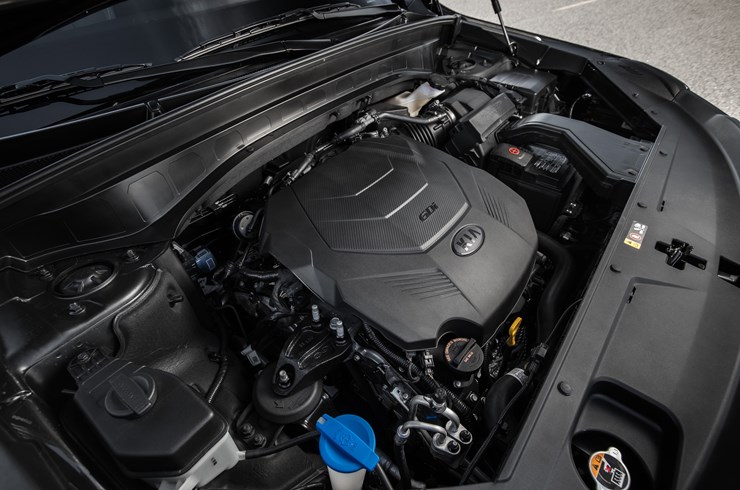 Powertrain – Telluride specs near Toronto Ontario
The most impressive specs on the Telluride are in the cabin. Its 10.25″ UVO touchscreen infotainment system makes for the perfect centerpiece of your cockpit. It's compatible with Apple CarPlay and Android Auto, sports extensive navigation features, and continuously gives you camera angles to monitor the exterior of your Telluride. A touchscreen is so important to modern SUVs because they give you supplementary visibility features that are just as much safety features as convenience. Driver Talk is another infinitely useful feature to parents. It amplifies your voice in the second and third row so that everyone in the ride can hear you clearly. That's a handy feature to have on hectic school days.
Safety – 2020 Kia Telluride dealer
Speaking of safety, the Telluride boasts one of the most abundantly useful safety platforms in its class. This is due in part to Kia's Drive Wise driver assist technology. Features like Auto Emergency Braking with pedestrian detection and forward collision warning have you covered in the area of the vehicle that you can see (right in front of you) but sometimes might not be paying much attention to. When you fail to brake or adjust steering for obstacles in your way – or more scarily, people – then your Kia Telluride can do more than just alert you. It can adjust steering, braking, and acceleration to ensure that you safely miss a person or obstacle. Many lives will be saved this year thanks to Kia's Drive Wise technology. It only gets better year after year.
Contact 401 Dixie Kia to ask for your very own 2020 Kia Telluride test drive.
*This article is for informational purposes only, please contact the dealership for the latest information.
Disclaimer
By submitting your email address or phone number, you allow us, 401 Dixie Kia, to include you on our contact lists to send you information about our products, services and promotions. You may revoke consent at any time by clicking on the "Unsubscribe" link in your email.