2021 Kia Telluride Lease and Specials in Mississauga ON
401 Dixie Kia
|
2021 Kia Telluride Lease and Specials in Mississauga ON
Kia Telluride Lease Specials and Finance Offers in Mississauga ON near Etobicoke, Brampton, Greater Toronto ON
Why Lease or buy 2021 Kia Telluride
In 2020, the Kia Telluride won the "triple crown" of SUV automotive awards. It was named 2020 North American Utility Vehicle of the Year, Car and Driver 10 Best, and even MotorTrend SUV of the Year. That's a long list of awards for an SUV that hasn't been here for very long, but the Telluride made an impact on the industry on day one. Now we're looking toward the release of the 2021 Kia Telluride in Mississauga. Our 401 Dixie Kia specials are designed to keep serving Mississauga Toronto Etobicoke Brampton Ontario with inventive and helpful ways to afford your dream Telluride. As for the 2021 Kia Telluride, every trim is a good dream.
*Not actual vehicle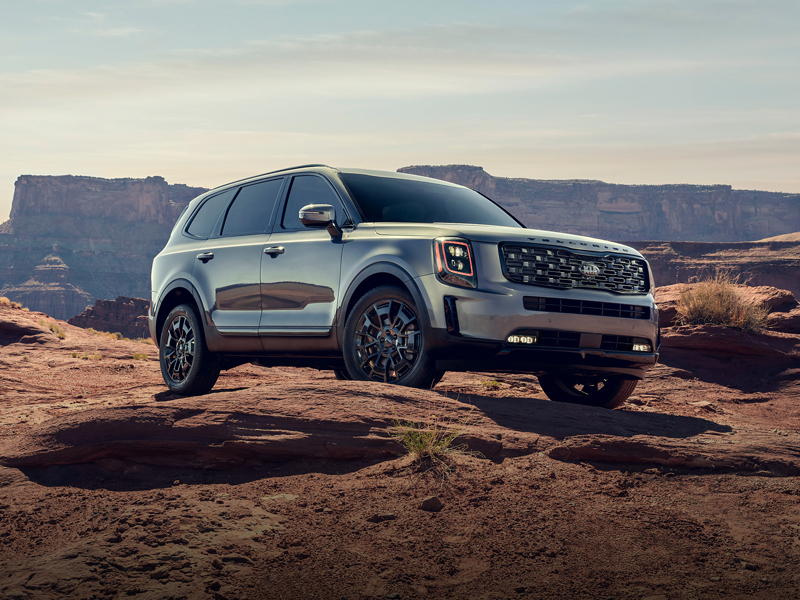 Exterior – Kia Telluride
This year's 2021 Kia Telluride tin Mississauga brings four grand trims to the masses: LX, S, EX, and SX. The SX trim is always the sportiest, getting bold upgrades like LED headlights, taillights, and fog lamps, dual sunroofs for the first and second row, and even 20-inch alloy black sport wheels that accentuate the Telluride's already bold curvature and line profile. Sweeping wheel arches and a steady flow of perks like deep tinted glass and body-color door handles all make for a bold, clean look on the Telluride. A more uniform hood area that's a bit shorter this year also crafts a more customized appearance on this year's 2021 Telluride.
*Not actual vehicle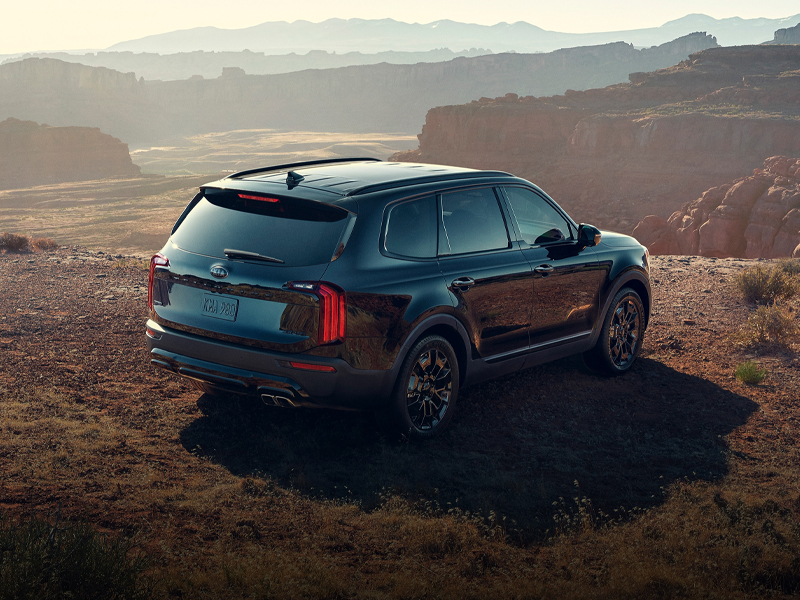 Interior – 2021 Kia Telluride
The Telluride's high tech tech, extravagant interior has always been its biggest draw. Kia's liberal use of upscale technology and premium leather and stitching crafts an interior that's every bit like home. The base model LX gets generous decor like one-touch sliding and folding second row seats and even push button start (a rarity for a base model's utility). The opulent EX features a smart Power Liftgate, wireless phone charger, and lovely leather seat trim in every row. With three rows of seating, the new EX can seat 8 passengers (and keep them cozy with heated and ventilated front power seats). The fit for a king SX is even more extravagant. Its Nappa leather seating and second row captain chairs get the whole family in the mood for a cross country road trip. Just driving in an SX is a pleasure.
*Not actual vehicle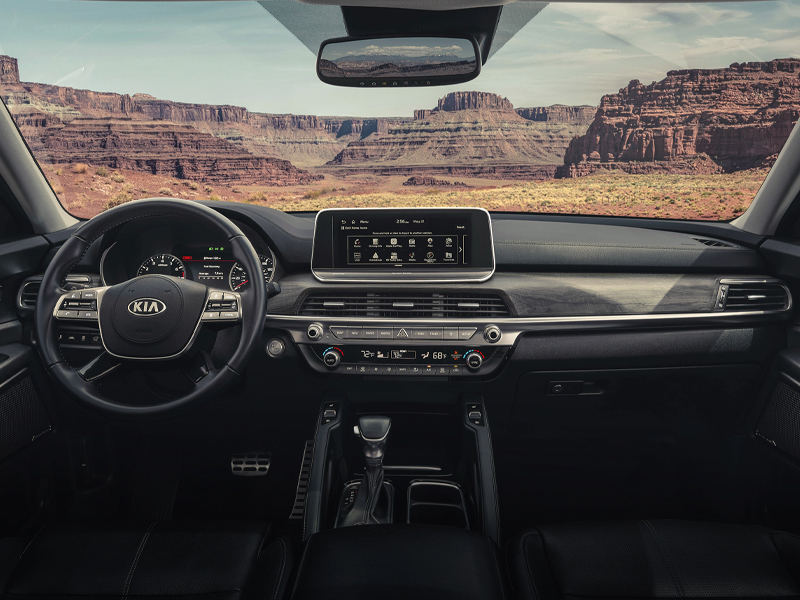 Mechanical – 2021 Kia Telluride
Sometimes simplicity is more powerful than choice. Kia realized this when they crafted the mechanical structure of the Telluride with a single 3.8L V6 engine powertrain. Its 291 horsepower capability delivers a whopping 5,000 pounds of towing capacity without even breaking a sweat. Luxury SUVs rarely deliver as much horsepower as they do other features, but Kia knows how special the Telluride is. The brand wanted their most popular SUV to be fully decked out in all the latest modern luxuries, and power is a luxury, too. Your 2021 Kia Telluride in Mississauga will never stop delivering world class power.
*Not actual vehicle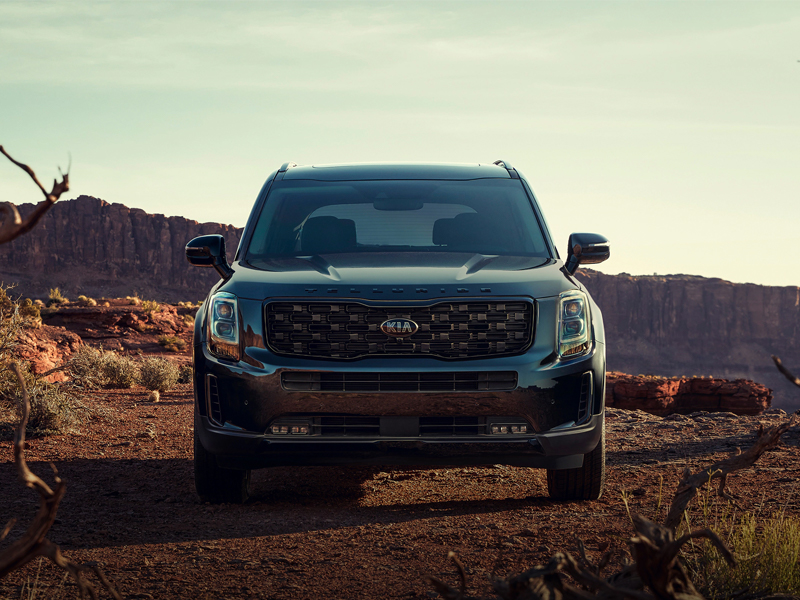 Technology & Safety
The Telluride is popular with a generation of people who grew up in front of a screen. Smartphone users are going to immediately be swept off their feet by the 10.25-inch touchscreen display that works with UVO Link. It has premium navigation and emergency features that keep you in touch with both entertainment and lifelines in the event of an accident. Planning a family road trip has never been easier thanks to the high tech structure of Kia's Telluride infotainment system. You'll Also appreciate features like the 7-inch LCD Supervision Meter Cluster and Surround View Monitor. You have a complete view of the interior and exterior of your Telluride at all times. Be sure to use our 401 Dixie Kia specials to get your best tech configuration on the Telluride.
The Telluride's electronically controlled 8-speed automatic transmission works supremely well with its streamline a driving experience unlike anything else in the industry today. We all know that people dote on the Telluride's technology, but don't underestimate its performance either. This SUV can kick it into high gear when the need arises.
Kia has a knack for serving Mississauga Toronto Etobicoke Brampton Ontario customers with more than just entertainment or interior sophistication. They put their whole heart and soul into crafting your safety system, too. Kia's safety technology is heavily focused on driver assist features. The SX comes standard with automatic emergency braking & Warning, Rear Cross-Traffic Alert and Avoidance, and Safe Exist Assist. What's most impressive on Kia's Telluride safety this year is that they've taken the time to install features that do more than just monitor. For example, Lane Keeping is a great system. It alerts you with beeps and visuals whenever you get out of your own lane. However, more advanced features on the Telluride take things a much needed step further by giving your vehicle the intelligence to mitigate your input with its own safer input. If you fail to brake, your Kia Telluride is smart enough to brake for you and avert an accident. Powerful features like this bring powerful peace of mind.
Contact Us
Disclaimer
By submitting your email address or phone number, you allow us, 401 Dixie Kia, to include you on our contact lists to send you information about our products, services and promotions. You may revoke consent at any time by clicking on the "Unsubscribe" link in your email.