Toronto – Why buy 2021 Kia Seltos vs 2020 Nissan Kicks
401 Dixie Kia
|
Toronto – Why buy 2021 Kia Seltos vs 2020 Nissan Kicks
Vehicle Overview
As small crossovers have continued to sell well and gobble up even more market share, the automakers have taken notice and introduced even smaller options. Nissan introduced its extra-small crossover in 2018, and the 2020 Nissan Kicks is currently available at local Nissan dealerships. Kia, however, did not immediately release a competitor alongside options like the Kicks. After all, Kia already had the Sportage, which is among the smallest small crossovers, and the Soul, which is the original extra-small crossover and already smaller than the Kicks and the like. So, Kia took its time to develop an all-new nameplate that would slot in between the Soul and Sportage and compete with vehicles like the Kicks. The result of that effort is the all-new 2021 Kia Seltos, which is now available at 401 Dixie Kia.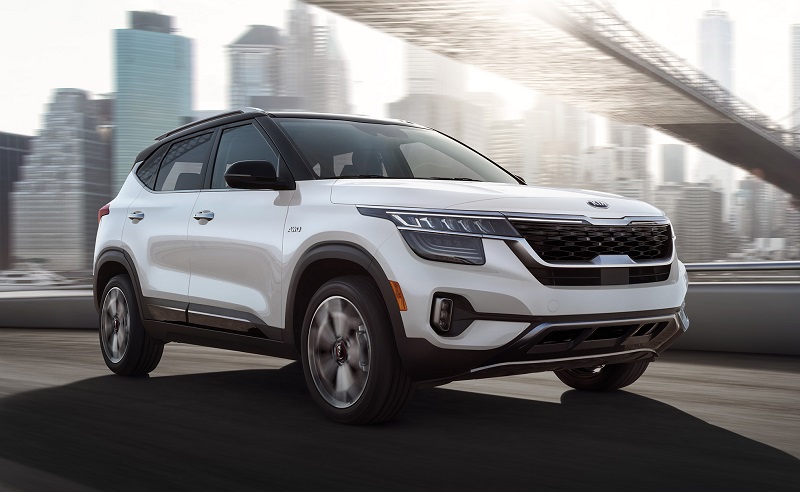 Exterior – 2021 Kia Seltos
The Seltos and Kicks are close when it comes to exterior dimensions. The Seltos is a bit bigger, which makes sense since Kia also offers the Soul, which is smaller than the Kicks. The Seltos has a 103.5-inch wheelbase and an overall length of 172.0 inches whereas the Kicks has a 103.1-inch wheelbase and an overall length of 169.1 inches. The Seltos is also a bit wider—70.9 vs 69.3 inches—and a bit taller—63.6 vs 62.5 inches—and it offers a tad more ground clearance at 7.3 inches compared to 7.0.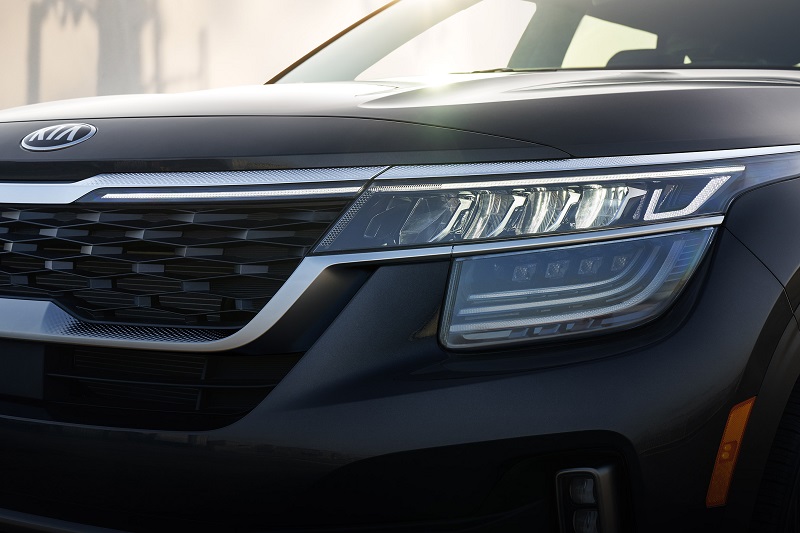 Interior – 2021 Kia Seltos near Toronto ON
Consumers who want an extra-small crossover still want passenger comfort and a decent amount of cargo volume. When it comes to cargo, the Seltos is impressive offering 26.6 cubic feet behind the second row and 62.8 with the second row folded. The Kicks offers a respectable 25.3 and 62.8 cubic feet. The Seltos also comes out ahead in the passenger department. It provides 41.4 inches of front legroom whereas the Kicks has just 40.7. Passengers in the rear of your Seltos will enjoy 38.0 inches of legroom, but the rear seating of the Kicks may feel cramped with just 33.2 inches.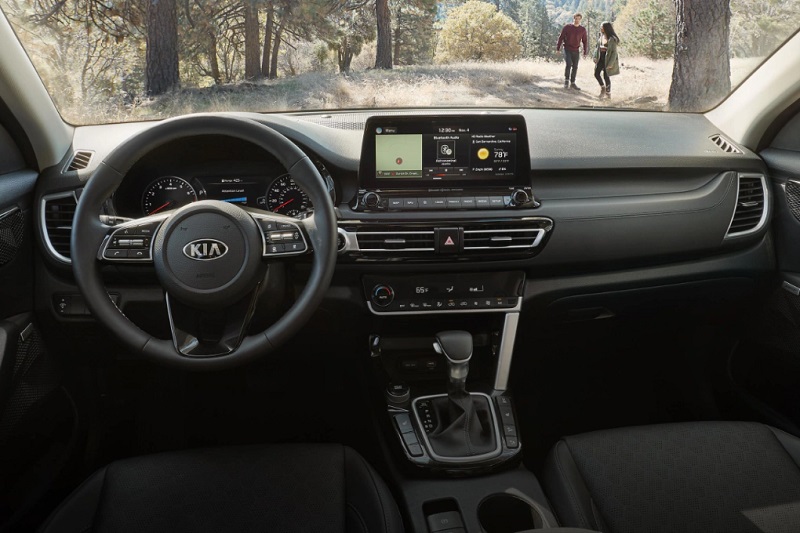 Mechanical – Seltos specs near Toronto
Kia made two decisions with the Seltos that really distinguishes it from the Kicks and many other vehicles in the class: optional all-wheel drive and an optional turbocharged engine. The 2020 Nissan Kicks is only available with front-wheel drive, and its sole powertrain features a continuously variable automatic transmission and a 1.6-liter four-cylinder engine rated for 122 horsepower. With the Seltos available at 401 Dixie Kia, front-wheel drive is standard, but all-wheel drive is optional at all trim levels. As for the powertrain, it mates a 2.0-liter four to a CVT and makes an impressive 146 hp. If you want more oomph, you can opt for a 1.6-liter turbo that provides 175 hp and 195 pound-feet of torque.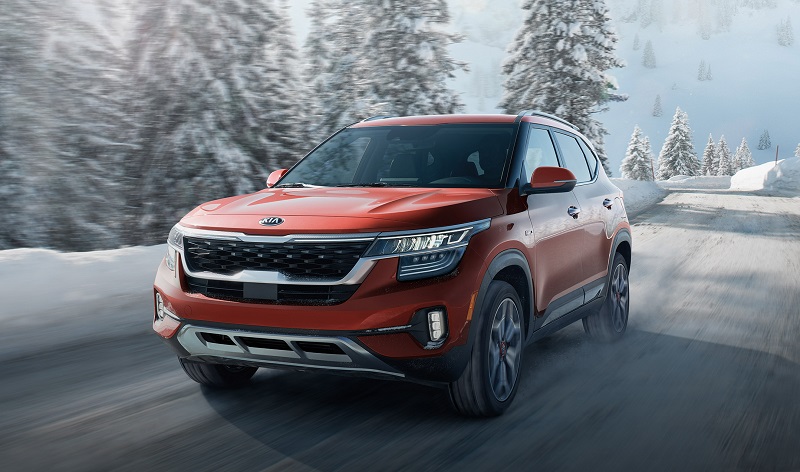 Technology – Seltos specs near Toronto ON
It should come as no surprise that the tech that comes standard with the Seltos is impressive. Kia has built its name in large part by offering standard technologies that many automakers charge extra for. On the Seltos, this package includes the Uvo infotainment system, an 8-inch touchscreen, a USB port, Android Auto and Apple CarPlay and keyless entry. With the Kicks, you get the Nissan Connect infotainment system, a 7-inch touchscreen and three USB ports—two of which charge. However, you need to opt for the up-level SV to get keyless entry and Android and Apple device integration.
Standard Equipment – 2021 Kia Seltos dealer
Kia essentially offers two base models for the Seltos: the LX and S. The Seltos LX is the base model for drivers who prefer all-wheel drive. The Seltos S is front-wheel drive but at the same MSRP, which means that you get some notable extras, such as forward collision avoidance and heated side mirrors. All models feature the Uvo infotainment system with an 8-inch touchscreen and a rearview camera. The Kicks base model is rather basic, which seems to be an intentional approach by Nissan. As Edmunds put it, all Kicks trims are "very basic … compared to other subcompact crossovers." You can expect Nissan Connect, a 7-inch touchscreen and a rearview camera.
Contact Us Today
If you're ready to test-drive the 2021 Kia Seltos, you can do that as soon as today. Just visit your local Kia dealership serving Mississauga Toronto Ontario at your convenience. If you have questions that our 2021 Kia Seltos vs 2020 Nissan Kicks comparison didn't answer, we welcome you to call us. You can also shop with us online, and we offer assistance via live chat and email. Request personalized quotes, get preapproved for an auto loan or leasing, discuss the latest specials, value your trade-in and much more!
*This article is for informational purposes only, please contact the dealership for the latest information.
Disclaimer
By submitting your email address or phone number, you allow us, 401 Dixie Kia, to include you on our contact lists to send you information about our products, services and promotions. You may revoke consent at any time by clicking on the "Unsubscribe" link in your email.